Building authority is about showing up as an expert in your field. Authority is one of the 6 Principles of Persuasion because the more you can show up as a creditable expert, the more people will trust you.
And when people trust, they buy.
So we wanna show up as an expert and built that authority on our website in order to get better clients contacting us. Here are 6 ways to build authority on your site:
Testimonials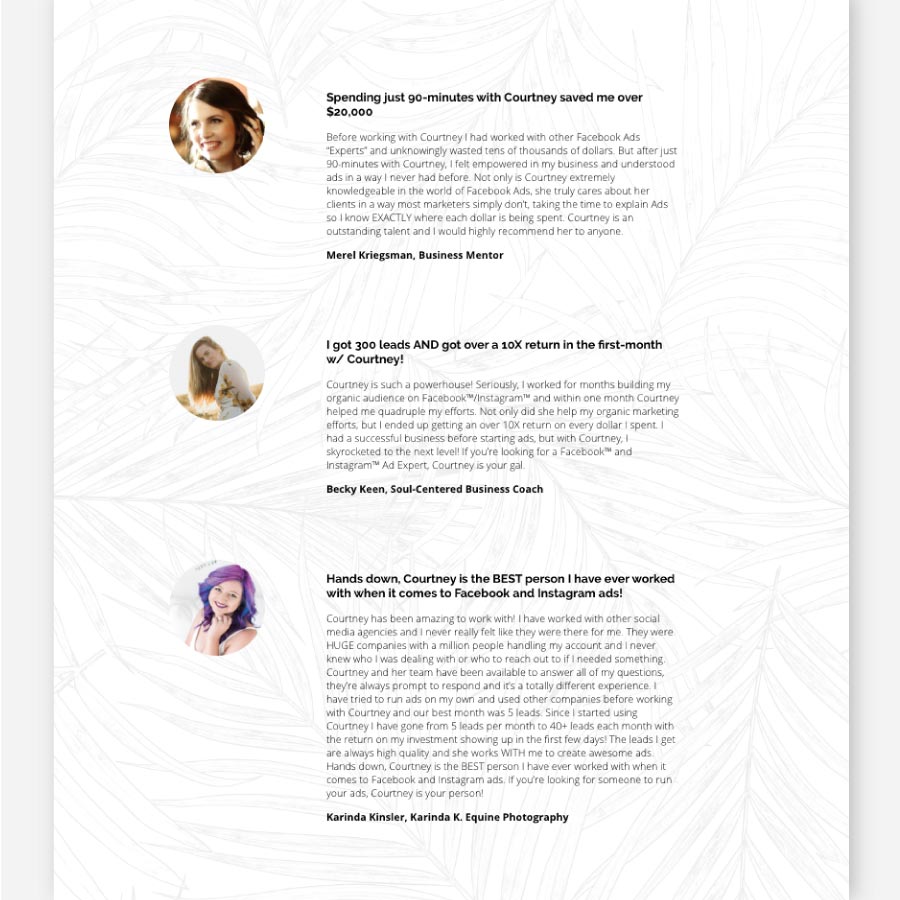 Courtney's website does a great job of showing off her clients results.
One of the quickest ways to build authority and boost that trust factor is to dot your most powerful testimonials around your site. You want to feature the testimonials that show off the results you get for your clients.
Because if your dream clients can see you getting results for your current client base, it'll help them trust you that much more.
As seen in logos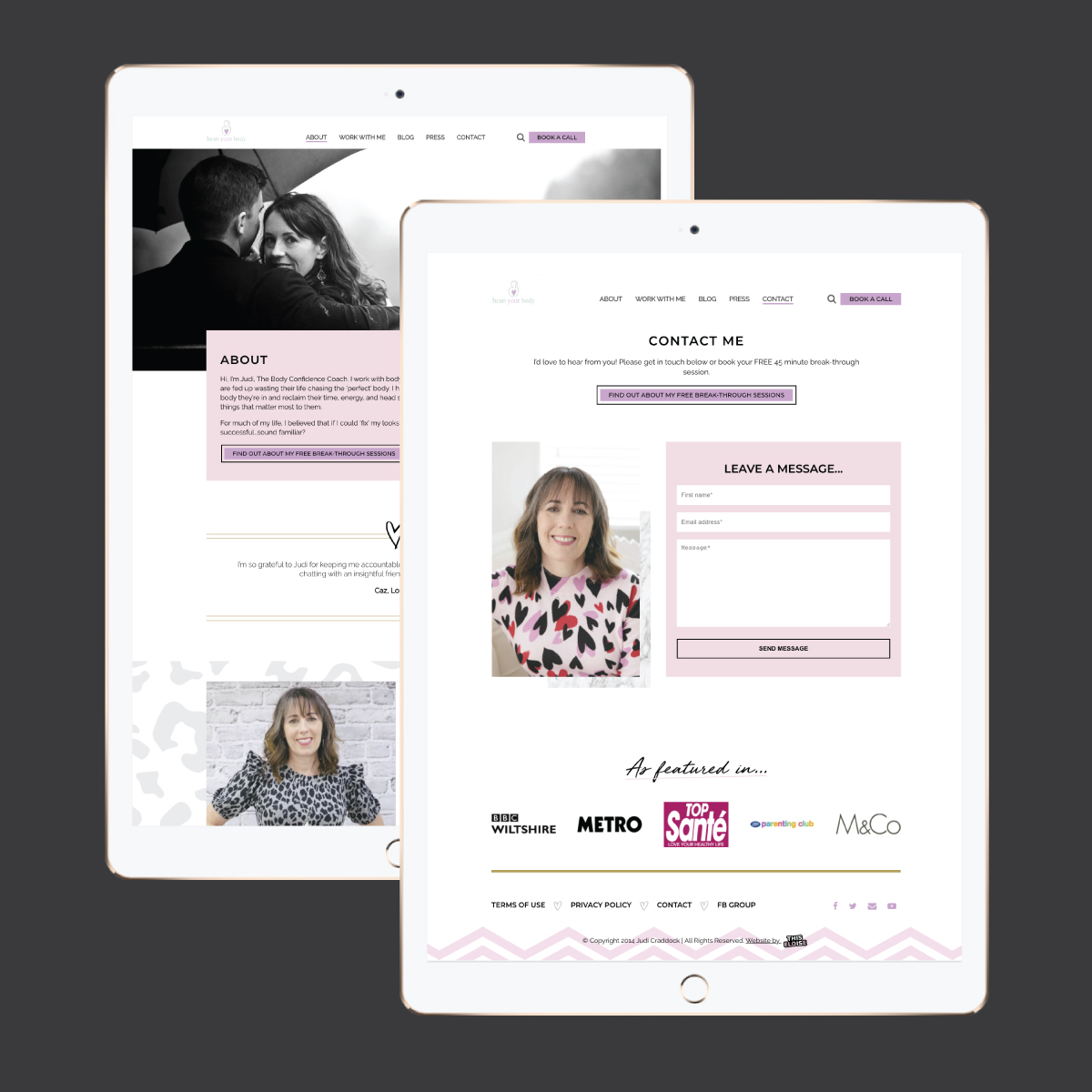 Heart Your Body has lots of PR logos to feature and her new professional website has attracted her even more PR opportunities!
Featured in any articles? Magazines? TV? Radio? Any sort of media you've been featured in shows you're a credible and established expert so make sure you have these logos on your website.
Don't just hide them away on your about page, make sure you get them on your homepage and/or footer section too.
Professional images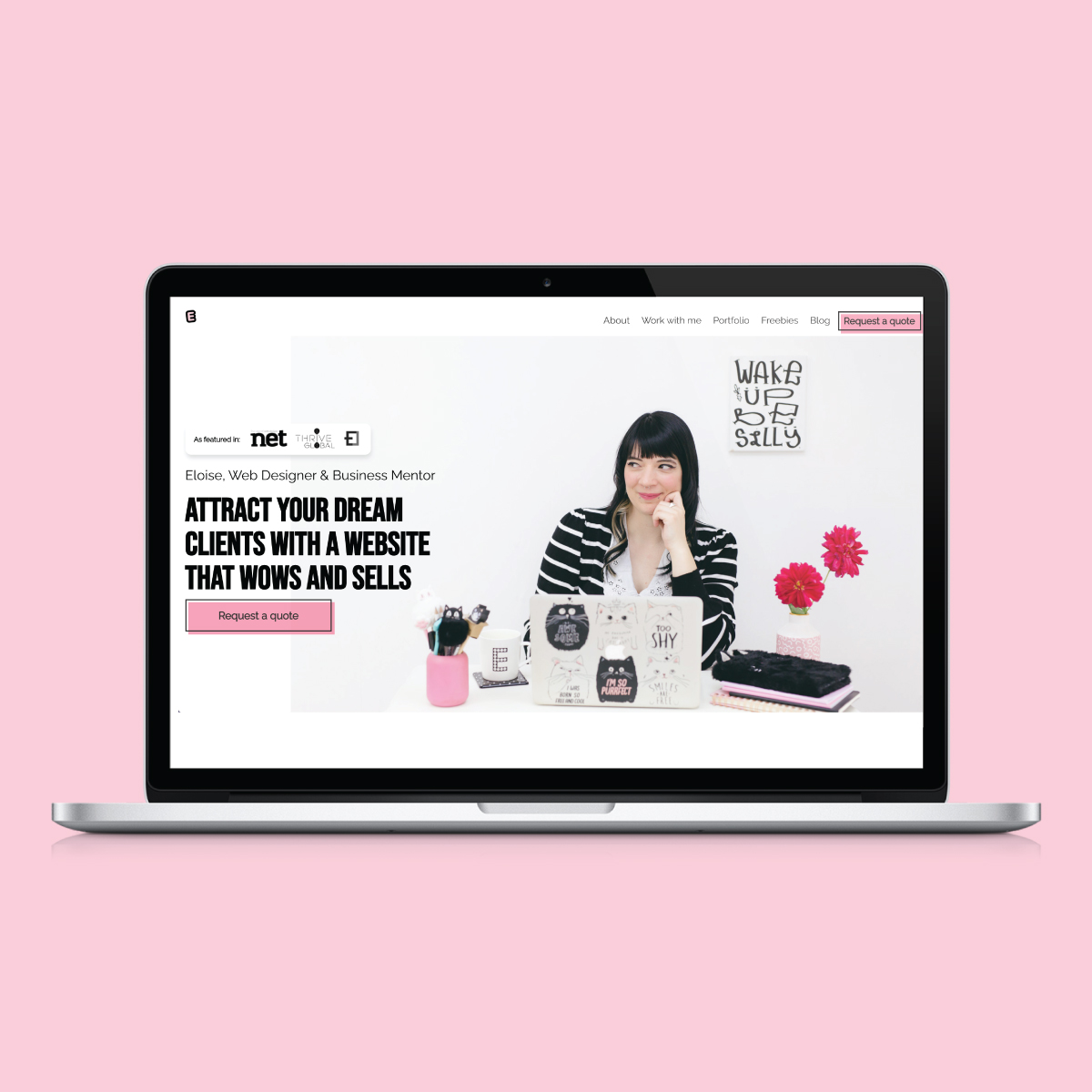 See how professional images make a site look more professional and polished?
iPhone selfies will not cut it. They make you look amateur and the last thing an authority figure is is an amateur!
If you want to look professional you gotta get professional images. High polished, professional photography captures your brand and shows that you take your business seriously like the expert you are.
Lead magnets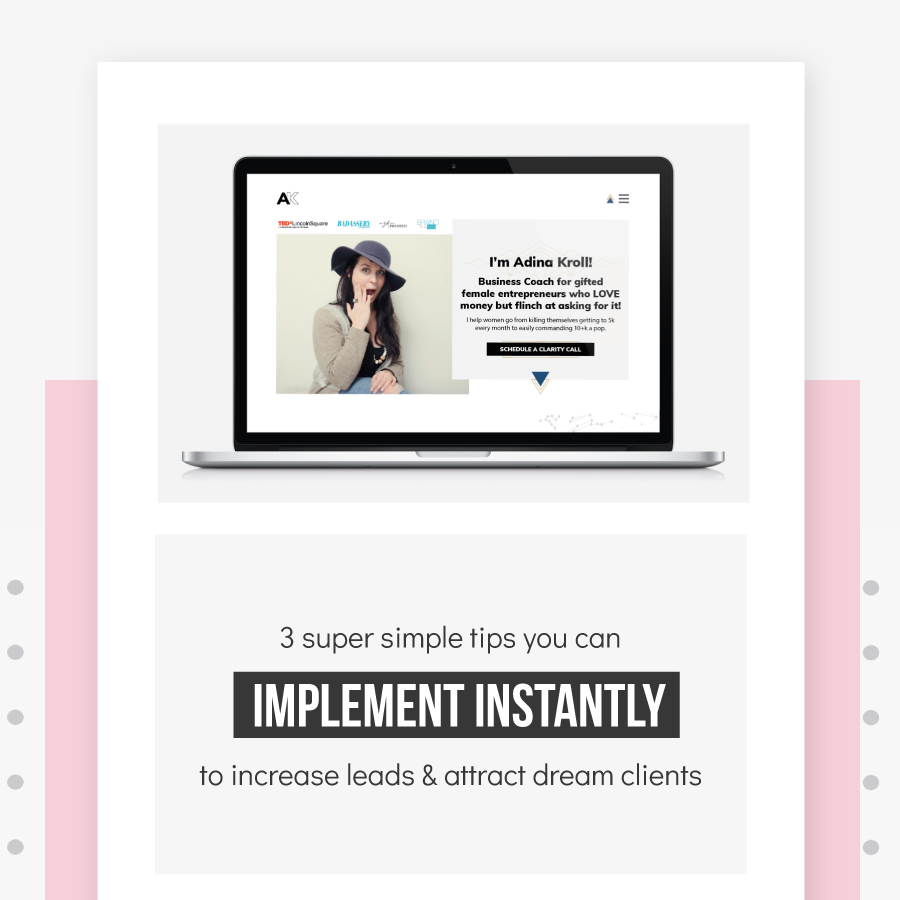 You can grab mine here if you want eve more tips! 
Have you got a lead magnet on your website yet? If not I highly recommend one. These are quick, downloadable guides given away for free in exchange for an email address. These not only build your email list but build your authority too.
With a lead magnet, you are giving people a taste of your expertise and with them signed up on your email list, you can build your authority with them on a regular basis too.
Blogs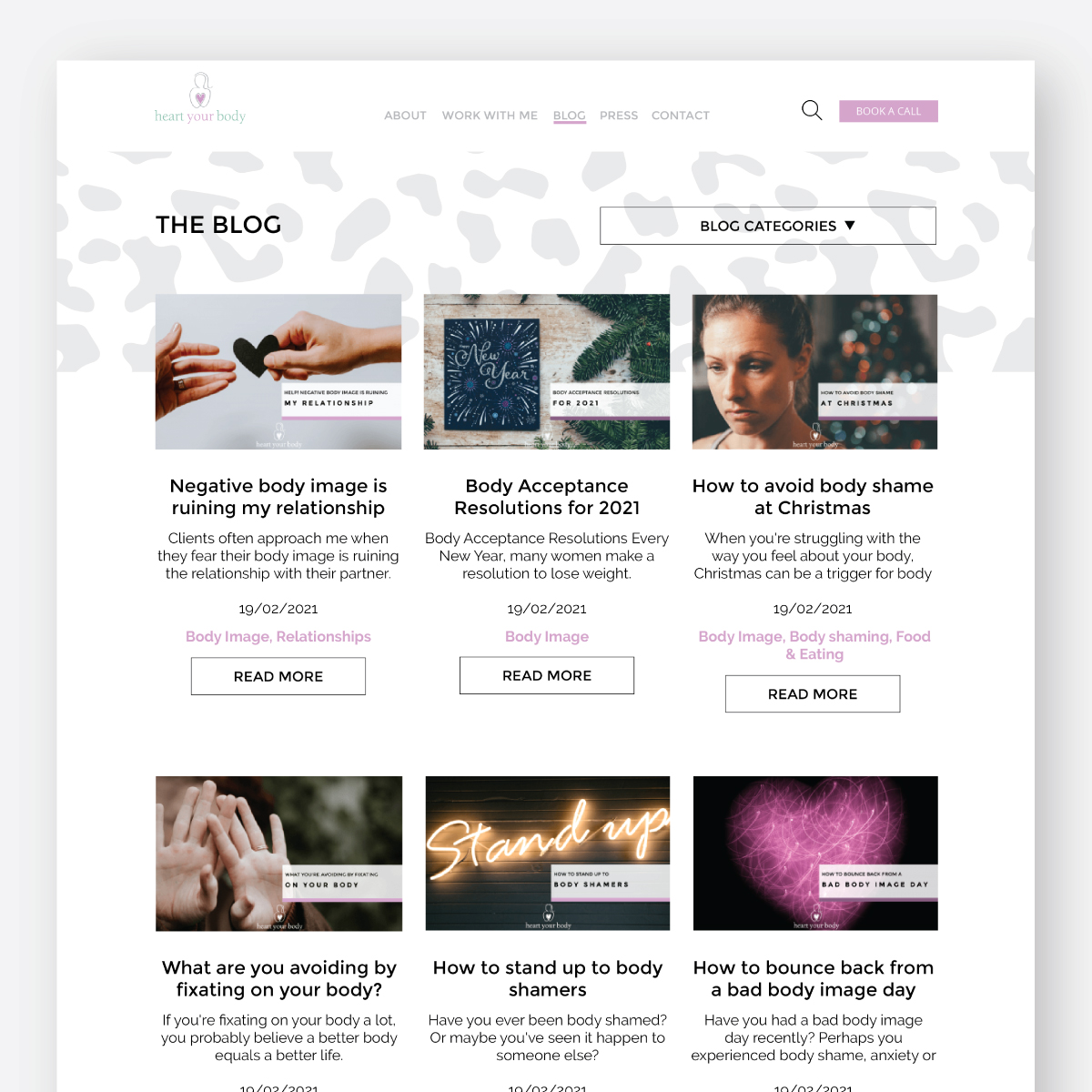 Heart Your Body has driven lots of regular traffic to her site by consistently blogging. 
Adding regular blogs with quality content is a great way to show up as an expert to your potential clients! By providing helpful insights, you're not only showing that you're well versed in your specific area of expertise but you are also helping them with their problems and giving them a stepping stone towards their desires.
Blogs also keep your potential clients coming back for more and if they keep coming back to you on a regular basis, that consistency boosts your authority too! You'll also build 'domain authority' with Google too so you'll get SEO brownie points as well!
Case studies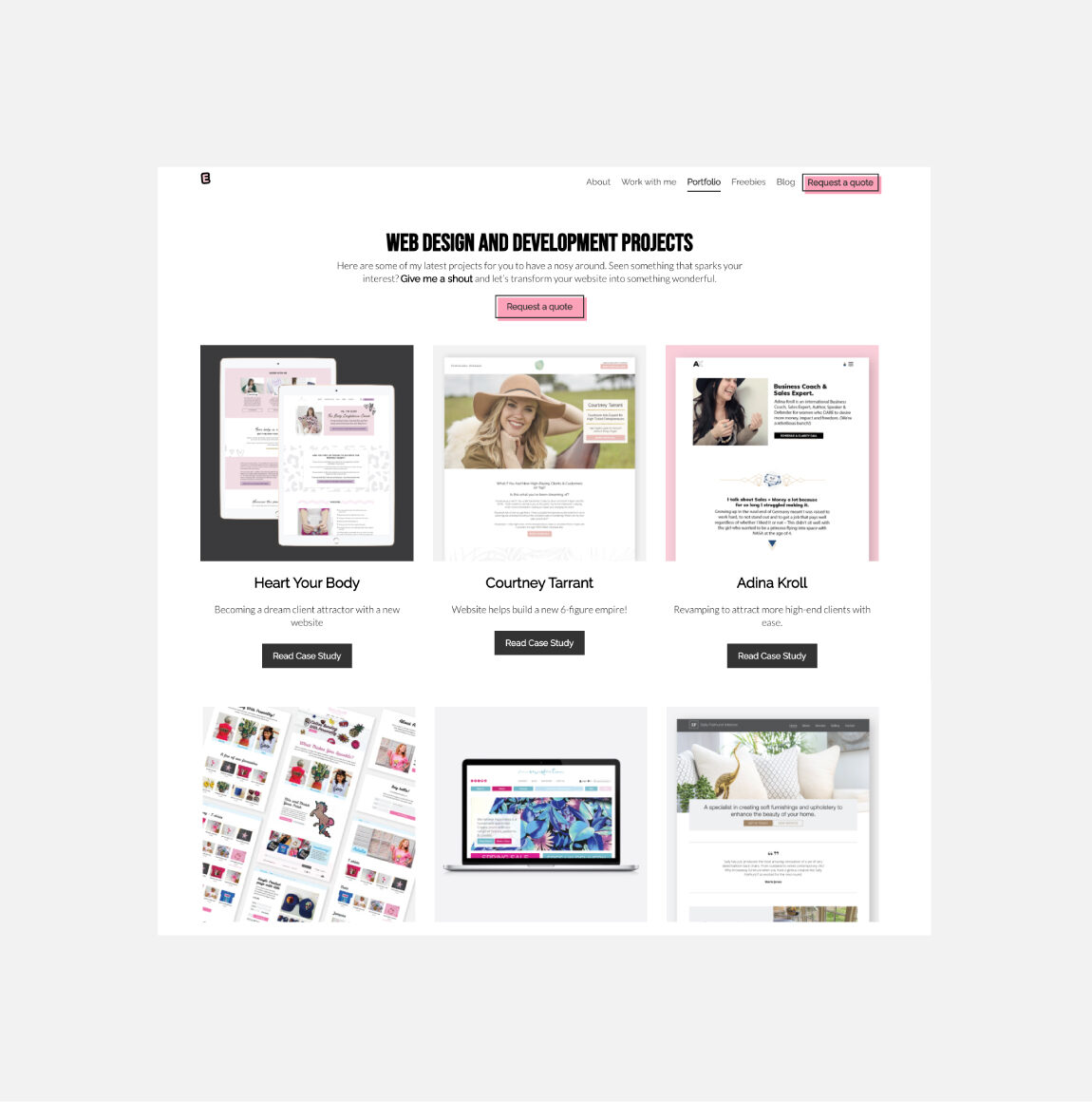 If you'd like an example of how to create a case study on your website, head over to mine here.
Another way to show off your results, case studies take potential clients through how you work but dive deeper than testimonials by showing the HOW behind your results.
And when you can show that you consistently transform your customers lives with the results that your dream clients want, you'll stand out as an authority figure in your field.
Just make sure to focus on painting that before and after transformation picture. Don't get too bogged down in the details as people want to know what you did and how you got your client the results they wanted.
Got these on your website?
Have you got these on your website yet? Do you need to add or update any? If so, consider this your reminder to get it done!
And these are just 6 ways to build authority on your website. There's so much more you can do to show up as an expert including having a professional, bespoke website instead of a DIY one.
If you're ready to drop your DIY site and work with a professional then send me some details here about your business. Let's build your website authority and boost that trust factor even more so you can get more of the perfect leads coming through your site and landing in your inbox!